Jollof Couscous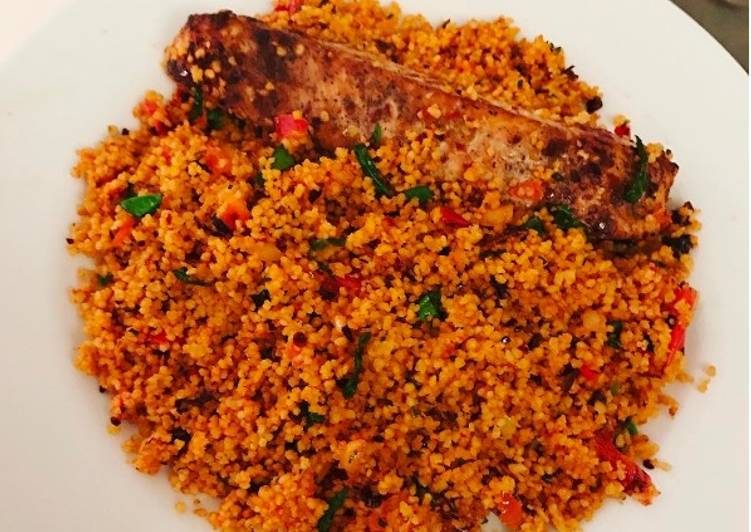 Couscous is a staple in North African cooking. It is the type of Pasta made from Semolina and sometimes a mixture of Semolina and wheat flour.
HOW TO MAKE JOLLOF COUSCOUS
Make sure you don't use water to boil your couscous for this particular recipe it will turn out bland use chicken stock.
The couscous should come out dry and not overly soft or mushy, therefore, there is a need to be mindful of the quantity of stock.
Ingredients Needed For Jollof Couscous
1 Cup Couscous
2 Tablespoon of Olive Oil
1 and a half Cup of Broth
Medium Onion Diced-1
Green Onion Diced-1
1 Medium Tomato Diced
1 Tsp Paprika
Curry Powder-1 Tablespoon
1 Tablespoon of Black Pepper
Curry leaf
Salt To Taste
Instructions
Preheat the olive oil in a Pot.
Put the diced Onion, Green Onion, and Tomato and leave it to steam for about a minute or two.
Season with Black pepper, Paprika and Curry powder. Put the blended sauce and leave to cook for another one to two minutes.
Add the stock and season with salt if necessary, cover it up and leave to come to a rolling boil.
Add the couscous and mix it together briefly, then turn off the stove immediately.
cover it up for about 10 minutes until all the water has been absorbed by the Couscous.
Fluff it up with a fork and serve with beef or chicken. Enjoy!
Please follow and like us: